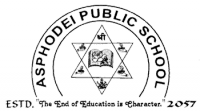 Aspodel Public School blev föreningens fadderskola 1999. Efter att studenterna på den första Projekt Nepal resan 1999 besökte dåvarande privatskolan Bal Udyan Secondary School, primary section, i Katmandu, bestämde föreningen att adoptera skolan som föreningens fadderskola. Motiveringen var att skolan hade en policy att alla barn är lika värda och även fattiga barn borde få en möjlighet till utbildning. Därför tar de mindre eller ingenting betalt av de elever som har det ekonomiskt svårt och lärarna jobbar till stor del ideelt.
Skolan har sedan tack vare Projekt Nepal fadderverksamhet och skoldonationer kunnat överleva och till och med växa. Föreningen förmedlar fadderbarn till svenska faddrar och därigenom bidrar vi till att skapa möjlighet för fattiga barn att få tillgång till utbildning.
På skolan bedriver man enligt nepalesiska mått mätt en friare undervisning än på statliga skolor. Kärleken till barnen är det viktigaste man kan ge och alla ämne integreras med mänskliga värderingar.
Skolan bytte 2001 namn till Asphodel Publich School, och har 2009 bytt till större skollokaler. 1999 hade fadderskolan ca 100 elever och tjugo år senare hade det fyrdubblats. Att ge barn i utvecklingsländerna möjlighet till utbildning är nog den viktigaste faktorn för utveckling och en väg ur fattigdom. Projekt Nepal är därför stolt över alla barn som vi har kunnat hjälpa till en viktig och bra utbildning.
Även du kan bidra till en bättre värld, där utbildning borde vara en självklarhet!
Skolans Grundare och rektorer Birendra Shrestha med fru Biva och deras barn.
Adress:
Asphodel Public School
Birendra & Biva Shrestha
Gowsara Marg, Kalikasthan
G.P.O. box 13609
Phone: +977-1-4432596
asphodelp@gmail.com
Så här beskriver rektor Biva skolans mål och struktur:
Modern Education systems and its representative institutions have become victims of gross aimlessness in Nepal. Asphodel Public School (ASP) tries to bridge the gap between the students and their education by guiding them to their goal. Boraders are made to feel at home in a peaceful, loving atmosphere with qualified and devoted teachers and staff.
ASP is a co-educational institution dedicated to reinstate human values as Truth, Righ-Conduct, Peace, Love and Non-Violence in Education. It channels students' energy into achieveing their optimum physical, mental and spiritual development.

Our school has special relationship with Project Nepal (and Luleå university of Technology, Education Department, Luleå Sweden). We exchange technologies, methodologies, cultural programmes, teachers and students as well. Project Nepal is committed to develop this school as an environmental model school.

CURRICULUM
Asphodel Public School follows the national curriculum as prescribed by the Ministry of Education. In addition to the standard texts we have many extra-curricular activities such as Computer, Music, Dance, Quize Contest, Paper Craft, Cleaning, Gardening, Social Service, Theatre and Drama, Essay Competition, Debate competition and Spelling Contest.
We have also facilities for swimming, Karate and other indoor and outdoor activities and occasionally educational tours and picnics are also organized.
Students of our school are divided into four houses - Sathya, Dharma, Shanti and Prema. Inter-house competitions are organized from time to time, winning students are taken to the inter-school cometitions held in different illustrious venues such as Television or Radio Station.

STRUCTURE
1. The Pre-primary (Nursery to U.K.G:)
2. The Primary (Grade 1 to 5).
3. The Lower Secondary (Grade 6 to 8)
4. The Secondary /Grade 9 & 10)

HIGHLIGHTS OF THE SCHOOL
Clean and peaceful atmosphere, spacious class rooms with limited number of students.

Ideal environment, qualified teachers dedicated to cultivate human values.

Extra coaching in English, Maths and Science.

Modern teaching methods incorporating computers and audio-visual aids.

Special Programmes to acquaint students with the rich cultural heritage and glorious past of our society and nation.

Japanese Language classes conducted from class 6 onwards.
PERSONAL DEVELOPMENMT
ASP gives special emphasis on the personality development of the students. Programs are organized to develop critical thinking, disiplined mind, self-control and self-confidence.

EXAMINATION
The school believes in continuous evaluation. Besides regular class assignments and unit tests, there are monthly tests, term examinations and final examinations. Reports of montly tests and other examinations are furnished to the parents.

ADMISSION
Every student irrespective of cast, colour and creed, nationality and gender is welcome to the school. However, he/she must perform satisfactor results in the entrance exam. Written and oral tests are conducted for all with the exception of nursary students who need not take a written exam,.

SCHOLARSHIP
Labouious and deserving students are awarded scholarship. Principal decided upon students level of intelligence and financial status.

ACCOMMONDATION
The school admits three categories of students:
(a) residental,
(b) day-boarders, and
(c) day-scholars.
The hostel is divided into three dormitories: (1) kids (nursery), (2) girls, and (3) boys.

AGE REQUIREMENT
To apply for nursery a student must have reached 3 years of age in the beginning of the academic session. Admission to higher grades would be reckoned accordingly.

SCHOOL DAYS
The school runs Sunday through Friday.

DRESS AND UNIFORM
| | |
| --- | --- |
| BOYS | GIRLS |
| Pants (Dark Gray) | Skirt (Dark Gray) |
| Shirt (White) | Shirt (White) |
| Shoes (Leather/Black) | Shoes (Leather/Black) |
| Socks (Dark Gray) | Socks (Dark Gray) |
| Sweater (Dark Gray) | Sweater (Dark Gray) |
| Blazer (Dark Gray) | Blazer (Dark Gray) |
| | Ribbon (Dark Gray) |
Students are not permitted to attend the classes wiothouth clean & tidy school uniform.

SPECIAL REQUEST
Parents are requested to forbid their child from wearing or bringing ornaments or valuable goods within the school compound.

Students cannot leave the school compound without the permission of the principal.

SCHOOL LIBRARY
ASP forsters a love for reading and operats an accessible library. Besides its own collections of books, the school has made provisions for borrowing books from different individuals and institutions. Students are encouraged to use the library facility.

FACILITIES
Transportation facility can be arranged in certain areas. Monthly payment is to be made for this service.
First aid facilities are available in the school dispensary. Regular checkup is done by a medical doctor.

FOR RESIDENTIAL STUDENTS
Students are encouraged to keep a clean, quiet and peaceful astmosphere. Care is taken to maintain harmony, mutual confidence, courtsey and modest dress habits.
The dormitory operated a hygienic kitchen from which children are served a variety nourishing meals maintaining a balanced diet.

Food is served six times a day:
6:45 Milk with snacks
9:30 Lunch
1:00 Tiffin with fruits
4:00 Light refreshment
7:00 Dinner
9:00 Got drink (Milk, Horlicks, Viva etc.)

Children are allowed to visit home once in a month.

We belive in working with parents to maintain the high educational ideas of the school. ASP values parents' suggestions and request that they keep in touch with the Principal through correspondence or occassional visits in order to maintain an open dialogie.


Mål med fadder- verksamheten
Lärare och gäster nya skolan
Att stödja skolan med undervisningsmaterial, böcker, datorer m.m.

Att ekonomiskt stödja skolans drift och underhåll

Att förmedla besök av studenter, lärare och skolelever samt volontärlärare

Att förmedla fadderelever vid skolan

Att förmedla pedagogiska, kulturella och utbildningsutbytes-program mellan svenska skolor och Fadderskolan
Så här beskriver skolans rektor Birendra skolans hostoria:
Bal Udyan Secondary Boarding School (now Asphodel Public School) was established in (2035) BS Nepali Calendar 1978 A.D. In the established moment we were two founder, one is Mr. Purna Bahadur Subba and me (Birendra Prakash Shrestha). We started school aiming to make one of the qualitative boarding school in the country.

In the moment of starting we had made a condition such as opinion, idea, and advice of each other will be followed by both of us. For the fifteen years the school ran smoothly with benefit. My aim from the beginning of school was to collect money from rich people and to give scholarship to the children of poor people. As my aim I proposed with him to utilize the some gained amount for the scholarship to the children from poor family. But he did not agree with my proposal. Being a school owner I started to provide scholarship from my share.

If became extremely difficult to run the school for me any way I was maintaining the school management. In the third year of scholarship given, a kind of situation were seen the discrimination between children and parents from rich family and poor family. As the number of poor children increased in the school there created a kind of disbalance in economic condition. We could not pay the salary and rent of building in time. A kind of big misunderstanding created in between we two partners. At last he just tried to blame me because of my aim the situation created. Then at the fourth year there was big amount of money to pay the building owner. My partner tried to sell the school. This kind of crisis is created because the private boarding schools do not get any kind of support at all from the government. They just support government schools. As I refused to sell the school my partner Mr. P.B.Subba told me to pay the amount left to pay the land-owner so did I. In return of that amount I got primary section as a founder Principal. From six to ten he run himself as a founder Principal.

From three years I have been running this primary section by taking loans. I believe in God, according to him. If I think positive I become positive. As my aim I got some friends who are providing me loans without interest. I invested the money for quality education. I got some more students than the time we separated. But I did not get enough numbers of paying students to maintain the school of course I got some staffs who are agreed to help me since I promise with them that when the school will run smoothly or without loans I will give them good salary with facilities. In the same time some of the staffs left school because I became unable to pay them as their demand. I was hardly running school with belief of God that if I do positive I become positive. Same thing have happened in my school. A very precious moment came in my sorrowful hard life like bright light in a dark narrow cave. The letter from very very respected brother Hans as encouragement from God.

He wrote letter from Luleå University and in which he wanted to send his students in my school as practice teaching in that moment I did not know him. I just welcomed them. The students arrived in my school from Luleå University with Respected Brother Hans as the mass of Gods from Paradise. I thought that they were send by God to understand me, my work and my aim. If this year also I did not get any support I must close my school. Because of sympathy, love, cooperation and help by Project Nepal my school is running smoothly. I appreciate you all respected God like Brothers, sisters, & friends of Project Nepal, Luleå University & Sweden from the bottom of my heart including school family and poor parents. I welcome and thanking you from the core of my heart to all of you God like brothers sisters and friends. I hope from this year I can accept some more forms from the poor children to whom I said sorry last year due to my inability. For your sympathy, love, help and cooperation, we have great respect and appreciation in the bottom of heart of me and school family.

Heartily thanks for everythings for everyone from Project Nepal and other Swedish brothers, sisters and friends.
Birendra Prakash Shrestha
founder principal of Bal Udyan Secondary Boarding School

I am Birendra Prakash Shrestha founder principal of Bal Udyan Secondary Boarding School would like to thank for the chance to express some my aim from core of my heart.

In fact I am running boarding school with qualitative education integrating moral human values as well as basic human values. The school is situated in Kalikasthan, Dilli Bazar, Kathmandu, Nepal.

In our country private schools do not get any kind of support from the government. The government supports only government schools. Boarding schools provide more quality education with extra curricular activities in comparison to the govermnent schools. I feel shame to say that despite of total support to the government school by government the schools take some amount of money from the children throughout the year saying admission charge or something else.

Here in Nepal we have such poor people who do not have any capacity to pay even small amount of money for their children's education. I thought that where will those children go who cannot pay. There are varieties of school for the children who can pay but there is not a single school for the children who cannot pay.

I have been providing scholarship for the children from poor family. The education in which my school have little bit different than other schools in Nepal. In our school we have integrated five human moral values in education indirectly (such as love, peace, truth, non-violence, religion) and directly basic human values such as human right, value and use of democracy awareness about environment, value of equality between male and female, way to develop economic and social condition etc important means to be a proper human.

Due to lack of education and different human values which I expressed above in our society, our country and some part of the world most of the people are suffering from the basic need and health problem. If they would have been got education then I think that they should not suffer from the basic needs and health problems keeping in mind all these things expressed above I aimed to give education especially the children from those poor family who have just desire not capacity.

From this year I have got more and more encouragement to work and give service to the poor children since I got economical support, love, help and coopertion from Project Nepal Luleå Univesity Sweden.

If I will get continue support I would like to run school upto secondary level means upto class ten. Then after class ten I would like to train the students who are from poor family to make them independet on their own. The trainings are like handicraft, electricity, carpentry, knitting, sewing, painting etc which are very essential in daily life. After getting those types of training the children should not depend upon others for their livelihood. Not only that much but also the children who get such kind of chance in their lives can be the example or the model of proper human being and naturally they in their future can be only positive contribution to their family, society, country and world as well.

As I am running boarding school in partly scholarship and full scholarship I have been getting several forms from poor people for residential students. Due to my own disbalance in economic condition of school I have not accepted those forms. I have accepted forms of half scholarship but in few numbers for the residential students. If I will be more capable by getting support from Nepal Project Nepal, I would like to receive more forms.

From last visit of students from Luleå University I have got lots of economic support, help, sympathy and love towards our school which is making me more capable. As my capacity from my school's side the students from Project Nepal can visit different kinds of schools, see classes, schooling system, teaching methodology, visit in different historical places and some more. We can have home stay programmes to the students of Project Nepal in Nepali family that is why they can learn and understand Nepali culture, family living style and friendship between hosts & guests.